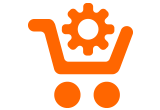 Why should I enroll with the Harley-Davidson® Dealer Digital Advertising Program?
This program is turnkey – your optimized campaigns will launch as soon as your new H-D Dealer Digital website launches
Campaigns can focus on: Search Engine Marketing, Display Advertising, Social Advertising, and Video Advertising on YouTube depending on Dealer enrollment, participation and budget
Only through this program can you ensure your campaigns are 100% coordinated with Harley-Davidson's national efforts. This avoids competition, lowers your cost in the Google auction and maximizes our combined reach in the market.
Track advertising performance utilizing H-D Analytics and monthly conversations with your assigned VMC
Enroll
View Webinar
Why Digital Marketing?
95% of bike/vehicle buyers use online sources during the shopping process. They are researching bikes, looking for deals, browsing social media, and viewing your inventory online. The way they start is by using Search Engines, like Google, to find what they are looking for. If you are not allocating at least some percentage of your total marketing budget to Digital Advertising, you could be missing out on capturing the interest of those online shoppers.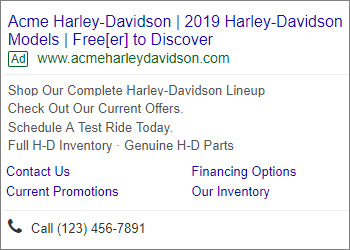 What is Search Engine Marketing?
Search Engine Marketing (also known as SEM or Paid Search) focuses on paid advertisements on search engines (e.g. Google) to promote traffic to your Harley-Davidson® Dealer Digital Program website. These are typically listed at the top of search engine results pages and are shaded or marked with an "Ad" label. Ads will be shown on both desktop and mobile searches.
The Ads served through SEM are text ads that show details relating to the query/search term the user searched. If the customer is looking for a Softail® Heritage Classic in your area – a text ad will show in the first search result position with text indicating you have what they are looking for and a link directly to your website.
Value: SEM paid advertisements will help drive additional quality traffic to help increase lead volume for your dealership.
What is Display Advertising?
Display ads (sometimes known as "banner ads") are graphic ads that are shown at the top and side of many websites. Display Ads are served based on what is known about the consumer (i.e. past search history for example, their interests and site they browse, etc.) and how likely they will find a particular ad relevant to them. Display Advertising is a great way to get your message or ad in front of a lot of people (impressions).
Value: Display Ads target customers based on relevant search history that aligns with prospective customers. These display ads will feature Harley-Davidson branding along with local dealer logos to promote a digital imprint in their local online community. Display ads help create future demand with touch points for researching consumers.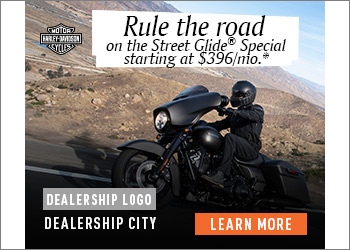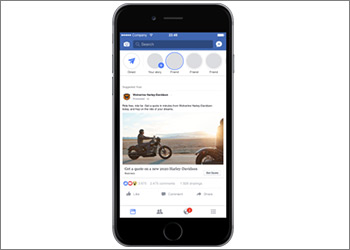 What is Social Media Advertising?
Social media advertising is focused on paid advertising on Facebook and Instagram. To promote lead generation and awareness, ads will be targeted towards potential customers on Facebook and Instagram on both mobile and desktop. Ads will be graphical and engaging, utilizing images and at times, video, which will drive engagement and consistent messaging across multiple channels, leading to more lead conversions and expanding your reach to prospective buyers.
Value: Paid social media advertising will target customers while they are in market - 78% of potential customers who plan to purchase a vehicle within 3 months don't know where they will buy (Facebook). These ads will drive awareness and lead volume for your dealership on platforms where users are spending time online.
What is Video Advertising?
Video Advertising within H-D Dealer Digital consists of paid YouTube video ads that play before, or in the middle of, targeted video content in-market customers are watching. These ads are meant to drive further awareness and long-term lead generation. Ads will feature various Harley-Davidson models with offers and your dealership information as well as a link through to your in-stock inventory.
Value: 75% of auto shoppers say that online video has influenced their shopping habits or purchases (Google). Targeting customers on YouTube will allow for greater awareness (impressions) and click throughs to your website, with the ultimate goal of driving additional leads and sales.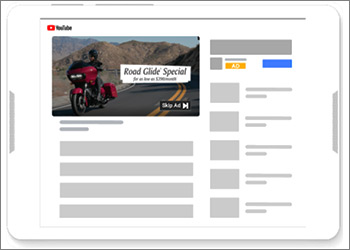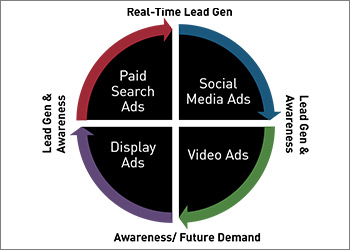 What are the benefits of the Harley-Davidson® Dealer Digital Advertising Program?
Search Engine Marketing (SEM) is Pay-Per-Click, meaning you only pay for actions (not ad views)
SEM ads reach local audiences who are showing intent and interest in Harley-Davidson® products
U.S.-based support from Harley-Davidson® Virtual Marketing Consultants (VMCs)
SEM ads connect motivated, in-market local customers searching for your dealership and its products to your Harley-Davidson® Dealer Digital website
All SEM leads, either form submission or phone calls, go directly to you and your dealership, not to Harley-Davidson®
Display Ads provide a unique advertising channel that target customers based on previous online activity with highly creative images with local dealership branding
Display Ads create a branding and awareness in your online local community for your specific dealership
What are the packages and pricing?
You can choose to invest any monthly budget, with a minimum dealer investment of $400 per month.
Below are the packages and pricing for all packages, ranging from only SEM and Display ads, to Social and Video ads as well.
Essential
Essential + Social*
Essential + Video*
Comprehensive
Paid Search
Display
Social Advertising
Video Advertising
Monthly Reporting
Ongoing VMC Support
Minimum Monthly Budget
$400/mo.
minimum
$700/mo.
minimum
$700/mo.
minimum
$900/mo.
minimum
Below are the approximate volume of clicks and leads you can expect with a given total monthly budget. It is important to note – these estimates can vary based on competition in a market, lead generation performance of the dealer website, and many other factors.
| | Essential | Essential + Social* | Essential + Video* | Comprehensive |
| --- | --- | --- | --- | --- |
| Tactics | SEM & Display | SEM + Display + Facebook/IG | SEM + Display + YouTube | SEM + Display + Facebook/IG + YouTube |
| Investment | Minimum $400/mo. | Minimum $700/mo. | Minimum $700/mo. | Minimum $900/mo. |
| Example Budget | $500 | $800 | $800 | $1,000 |
| H-D Contribution | $250 | $400 | $400 | $500 |
| Estimated Impressions | 30,000 – 70,000 | 40,000 – 90,000 | 50,000 – 100,000 | 50,000 – 125,000 |
| Estimated Visits | 300 – 700 | 400 – 900 | 400 - 750 | 500 – 1,250 |
| Est. Form & Phone Leads | Up to 100 | Up to 150 | Up to 125 | Up to 200+ |
What is difference between organic and paid search results?
Organic (SEO)
Paid (SEM)

Placement on SERP dependent by Search Engine Algorithms
Typically rewarded to domains over time
Placement dependent on numerous factors such as:

Domain History
# of links to website
Content on site
Site Structure (HTML)

Show below paid advertisments

Ad units that appear above and below Organic results
Has a message that is directly controlled by the advertiser
Goes to the URL specified by Advertiser
Does not require history (can be active in the SEM the same day as the site build)
Advertiser has complete control on who is eligible to see an ad
Will I see my advertisements every time I search?
Every time a keyword in your area is searched, a virtual auction takes place. This auction is made up of a variety of factors, and not showing up can be for a variety of reasons. Below are the top reasons your ad might not show when you searched for it:
Daily Budget: Your monthly enrollment budgets get broken down into a daily target (ensuring a full month of coverage). In some instances, your current in-market demand can exceed the level of investment you selected – meaning, your budget wasn't large enough to show to every person who is searching. Keep in mind that showing up for every search isn't always the best strategy, as our algorithms and strategies are more designed to make you present when the possibility of a lead is high.
Targeting: Your advertising campaigns are going to be geared toward your local audience by targeting a radial audience (varying by dealer) of shoppers. For example, if your dealer is targeting 15 miles, but you are 20 miles away, you may not see your results show up.
Keyword Relevance: We will use a range of lower funnel keywords, as the goal of the SEM campaigns is to drive interactions. At times, our advertising campaigns could prioritize certain keyword phrases compared to others – this does not mean you will never show for certain searches, but that we are focusing on searches that drive leads first.
How will I know if it is working?
You will have monthly touch bases with your VMC to go over campaign performance reviews and optimization recommendations.
Why do I need to show paid ads if I already show up on Google organically?
Showing ads and organic listings is a good thing:
For associated search results in the top spot organically, 50% of the ad clicks are incremental (meaning the dealer would not have captured them)
For associated search results in positions 2-4, 82% of the ad clicks are incremental
For associated search results in positions 5 or higher, 96% of the ad clicks are incremental
Google will display up to 4 paid search ads at the top, pushing organic results below the fold and giving paid ads more impact.
What type of Keywords will be a part of this campaign?
Keyword selections all fall within three categories Retention, Local, and Segment. Below are samples of keywords that are targeted in your SEM campaigns:
| Make/Model Specific | Dealer/City Specific | Segment |
| --- | --- | --- |
| Harley-Davidson Sportster Price | Harley-Davidson Dealer | Best motorcycles |
| Harley-Davidson Softail | Motorcycle Dealerships Near Me | Touring motorcycle Deals |
| Harley-Davidson motorcycles | Harley-Davidson [City] | Motorcycle Deals |
Value: All keywords are targeted to in-market shoppers – these are users who are directly interested in the models or products that you offer. Every impression is targeted, and every click is qualified.