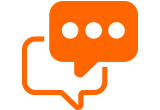 Dealer Chat Program
Harley-Davidson® has vetted and certified some of the industry's most progressive and unique chat and messaging providers. These providers will help H-D dealers engage with customers through chat and/or messaging, ensuring that engaging with a H-D dealership is easier than ever.
What are the benefits of the Harley-Davidson® Dealer Digital Chat Program?
Dealer choice of industry leading certified chat providers
Best-in-class value by leveraging brand purchase power and provider competition
Convenient customer engagement
Standardized reporting & metrics
Compare Providers
ActivEngage
Turn more digital shoppers into dealership revenue with ActivEngage. Designed by motorcycle dealers, for motorcycle dealers, ActivEngage Solutions directly impact sales by driving more motivated, ready-to-buy customers to your store. From our multi-channel messaging platform to the unmatched lead-to-sale results of our managed solution, our services are proven to impact your bottom line.
Learn More
Enroll
---
Conversations
Built on unprecedented technologies and industry-leading design, the connected Dealer Inspire ecosystem of products and services future-proofs dealerships by powering faster, easier, and more confident retail experiences, for shoppers and your team.
Learn More
Enroll
---
LivePerson Automotive (formerly known as Contact At Once!)
No motorcycle was ever sold or serviced without a conversation. That's why you need the solution for conversational commerce that works on your website AND CycleTrader.com, Apple Business Chat, Google My Business, Facebook Messenger/Marketplace, Google Ads and more: LivePerson Automotive, formerly known as Contact At Once!, is the only one that can do it all. Plus, our Live Advisors can manage any of the sales/scheduling conversations you might otherwise miss, 24/7. Why juggle multiple messaging tools when you can do it all with one...and do it better? Let us make messaging easier and more effective across your dealership.
Learn More
Enroll
---
MessageNow
Revolutionize the Ride with MessageNow - an affordable, customizable, and powerful, yet flexible 365/24/7 "live-assisted" communication platform offering visual, interactive retailing in the Powersports industry to deliver an unrivaled "surprise & delight" customer experience that is unique to Harley-Davidson® motorcycles.
Learn More
Enroll
---
Frequently Asked Questions
Why do I need Chat on my website?
Dealers who offer chat solutions on their websites give customers an additional opportunity to engage. Whether the chat solution is managed by someone at the dealership or via a managed solution, chat tools have proven to increase leads and customer satisfaction with website experience. Customers can ask quick questions or submit their information as leads to be delivered into your CRM.
Who will be managing the chats?
Depends on what provider or package you select. Some providers offer you the ability to self-manage the chat experience and some can manage it for you.