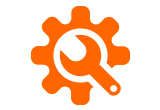 Trade-In Program
Harley-Davidson® has chosen to certify Trade-In providers that will allow dealers to promote industry-recognized trade-in values for customers looking to get that new bike and trade-in their old one. Seamless integration into the dealer's website is paramount as traditionally trade-in leads are customers who are looking to get riding something new soon. What are the benefits of the Harley-Davidson® Dealer Digital Trade-In Program?
Program Benefits
Dealer choice of industry-leading certified Trade-In Evaluation tools
Best in class value by leveraging brand purchase power and provider competition
Standardized reporting & metrics
Brand guidelines and standards are met and upheld
Compare Providers
Please check back as additional providers will be added once contracted and approved by Harley-Davidson.
Trade Accelerator
Trade Accelerator® is the largest trade-in tool provider to the motorcycle industry. There's a reason why many of the highest volume dealers choose our instant trade-in tool. With 650+ motorcycle dealers using our instant trade-in tool, rest assured you are in good hands using a trade-in tool that generates you the most sales opportunities. Trust our 20+ years in the motorcycle industry!!
Learn More
Enroll
---
Frequently Asked Questions
Why do I need a Trade-In Tool?
A trade-in tool gives your customers the ability to understand what they might be able to get for the bike they currently own. Leads from these tools are traditionally high-converting.
What if I use a tool that is not a part of the program?
Continue to do so, but please let your VMC or Harley-Davidson® field rep know so that they can be considered for inclusion in the program.