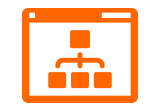 Website Program
Harley-Davidson® dealers can now partner with the leading names in Power Sports dealer website platforms by enrolling with one of the below certified website partners. The Harley-Davidson® Dealer Digital Program is designed to provide H-D dealers with best-in-class certified provider offerings that excel in putting choice and flexibility into dealer hands.
What are the benefits of the new H-D Dealer Digital Program?
Market-leading websites vetted & certified by Harley-Davidson®, designed to deliver program outcomes and reporting to propel H-D Dealer Digital results
Industry-leading support with proactive performance improvement recommendations through your Virtual Marketing Consultant (VMC)
Complete insight into website performance, bench marking and best practices to promote continuous growth and conversion
Flexibility to choose from newest platforms, templates and designs that fulfill brand standards
Applicable national model content and assets integration automatically on websites
Benchmark reporting against National, Market and District views
Compare Providers
Dealer Inspire
Built on unprecedented technologies and industry-leading design, the Dealer Inspire platform future-proofs dealerships by powering faster, easier, and more confident online shopping journeys — from search to signature.
Learn More
Enroll
View Webinar
---
Dealer Spike
From our first Harley-Davidson® dealership in 2008, Dealer Spike's mission has been to help dealerships grow their business through online lead generation. With real-world dealership experience and a passion for solving dealers' market growth roadblocks, we know what dealers need to be successful. And we deliver through our innovative website and digital marketing solutions!
Learn More
Enroll
View Webinar
---
DX1
A DX1 website revs up your dealership's online brand with Google-preferred responsive design. Whether your customers are connecting to your website via desktop, tablet or mobile device, the user experience is seamless. Take advantage of the latest technology and lead generation to engage online customers, drive in-store traffic, and sell more.
Learn More
Enroll
View Webinar
---
Fox Dealer
Fox Dealer is a personalized marketing company where powerful digital technology meets white glove customer service. Fox specializes in custom responsive websites, stunning creative design, and cutting-edge digital marketing. As a Google Premier Partner and the go-to provider for many high-performance dealerships, the Fox name is quickly becoming synonymous with excellence. Combining impressive results with 24/7 personal customer support, Fox is there when you need us. #BORN DIGITAL
Learn More
Enroll
View Webinar
---
PSM Marketing
PSM Marketing is the highest Google-rated website provider in the Powersports industry. Our Firestorm Website platform combines proprietary trailblazing technology with advanced direct-marketing best practices to generate more, higher quality leads for dealerships. This powerful combination enables dealers to sell more units and make more money. Since 2004, we've dedicated ourselves to providing premium service with quantifiable results to our valued clients.
Learn More
Enroll
View Webinar
---
PSXDigital
PSXDigital is a leading digital marketing company committed to helping dealer-partners in the motorsports industry to succeed more profitable & efficiency while delivering an amazing customer experience. Offering a fully integrated sales and marketing solution to provide a consolidated view of the customer from a single login, connecting more dealers to more customers and driving more sales, faster and better. With veterans in the industry from both inside and outside the dealership, PSXDigital is again a blazing trail of cutting-edge innovations geared to help dealerships across the country connect more with their consumers and sell more units.
Learn More
Enroll
---
Room 58
Room 58 has been working directly with Harley-Davidson® all-round the globe for over 12 years. Our team is passionate about the brand and dedicated to helping you deliver a great online customer experience. Our market-leading dealer website platform, Morillian® BWS has been designed specifically to meet the needs of Harley® dealers. Our solution is easy to use, delivers results and helps you sell and service more bikes.
Learn More
Enroll
View Webinar
---
Frequently Asked Questions
Which dealer website providers can I choose from?
Initially the following providers are available to choose from:
Dealer Inspire
Dealer Spike
DX1
Fox Dealer
Power Sports Marketing
PSX Digital
Room58
What if I am currently in a contract with a participating provider?
You will still need to enroll with that provider on this website. Providers will be expected to migrate your website onto the program platform to give access to lead and website performance reporting. Your billing will also be processed through Harley-Davidson® Dealer Digital for all enrolled services.
Are there any long-term commitments?
Website Packages:
Dealer Inspire – 12-month term
Dealer Spike – 12-month term
DX1 – 12-month term
Fox Dealer – quarterly term (3-months)
PSM – quarterly term (3-months)
PSX – 12-month term
Room 58 - quarterly term (3-months) or 12-month term
Website add-on products are on a month-to-month term.
What will happen to my current website?
Your current website content will be migrated over to the new platform (either with your new provider or your current provider) within 60-days post enrollment.
What is the main reason I should enroll in the program?
Harley-Davidson® Dealers who enroll will have access to innovative new technology as well as benchmark reporting to track performance against dealers in their District, Market and Nation. Dealer Leads will be delivered in real-time to your H-D CRM for follow up and you will receive access to the Harley-Davidson® VMC team to consult on strategy and review reporting.
What kind of support will I have access to?
Enrolled dealers will have access to Virtual Marketing Consultants to help ensure their website is built to optimize engagement and lead conversion. VMCs will also help dealers with their website strategy through regular metrics reviews.
Are there any price breaks for Dealer Groups?
Please contact your VMC for information on available pricing for Dealers Groups with multiple rooftops that wish to use the same provider for all locations