THE ONLY WEBSITE PLATFORM SPECIFICALLY DESIGNED TO MEET THE NEEDS OF HARLEY® DEALERS.
Having worked with Harley-Davidson® Motor Company for over 12 years, Room 58's Morillian® BWS platform (BWS) was created specifically to meet the needs and demands of Harley-Davidson® dealers. BWS is now in use with over 450 Harley dealers, in 66 countries and 34 languages.
This easy to use, proven technology delivers results and maximizes shopper engagement and conversion regardless of platform. Since moving to BWS, our dealers have confirmed to us that the quality and number of leads increased dramatically.
Compare Packages
Enroll
LEARN MORE
---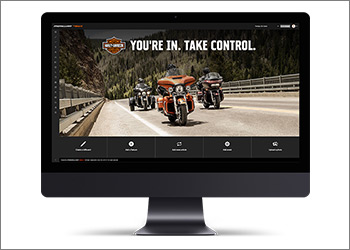 EASY TO USE ADMIN PANEL
Designed for your dealership, our intuitive admin panel gives you full control over your online presence. With very little experience of updating websites, you can edit and manage your content, navigation and site design, whenever you want.
Designed specifically with Harley® dealers in mind, we have continuously developed the platform to support the H-D® customer journey and to complement and integrate with a range of popular digital retailing and inventory management tools.
With Morillian® BWS, there is no need for hours of training. Should you get stuck, we have a range of video tutorials on our online support portal or a dedicated team member ready to help either by phone or email.
---
FULLY RESPONSIVE DESIGN
Whether your customers are visiting you on a mobile, tablet or desktop, our responsive design will ensure that your customer's browsing experience is optimized, engaging and easy. No need to create separate sites, our admin panel enables you to create mobile and desktop enhanced pages from one interface. This helps you increase your reach to tablet and mobile audiences, consolidate your analytics and reporting as well as increase your visibility in search engines.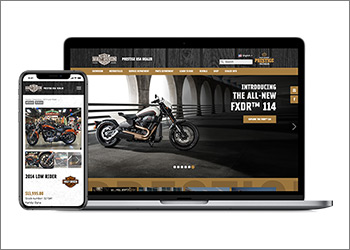 ---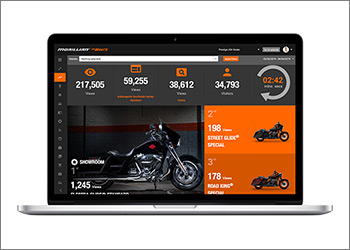 BUSINESS INTELLIGENCE AT YOUR FINGERTIPS
Our interactive dashboard provides you with information and insight to help you make informed commercial decisions. Leads are categorized into pre- or post-sale, so your experienced departmental team members can maximize conversion and grow your revenue.
Removing the need to trawl through lengthy Google Analytics reports, you can check how your website is performing on a daily basis. Our reporting interface enables you to view top level website statistics or drill down into more detail with one simple click. Call tracking data is also reported within the interface to help you understand where leads are originating from.
This valuable information will help you understand what your customers are looking for and assist you in driving sales, increasing interest, engagement and footfall into your dealership.
---
CLICK TO CUSTOMIZE
Morillian® BWS allows you to give your website a fresh new look as often as you wish. Take control of your website's look and feel by selecting from our list of multiple themes. From corporate, retail environment, campaign lead to seasonal themes, you can change the way your website looks with just a click of a button; and best of all you can express your personality whilst remaining within the brand guidelines.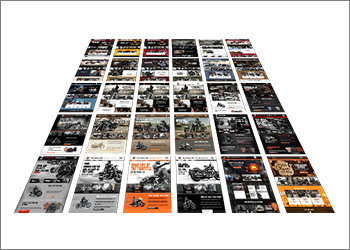 ---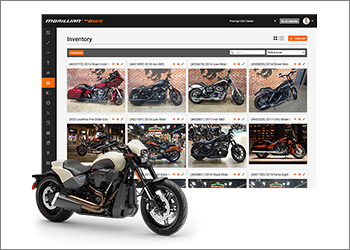 INTUITIVE INVENTORY MANAGEMENT
With our intuitive management tools, you can merchandise and market your full inventory across devices and drive more engagement and sales.
Whether importing your inventory from your DMS, or using our motorcycle manager, you can easily manage stock levels, add pictures, prices and custom descriptions or integrate individual bike walk-rounds and smart video for your sales and service departments in association with LESA or CitNOW. You can also push your inventory out to various external sites, such as CycleTrader, Facebook and Chopper Exchange.
In addition, you can add customized promotions and incentives and personalized 'Call to Action' (CTA) buttons including finance, trade-in and test ride booking.
---
DIGITAL RETAILING
Digital Retailing encompasses a broad spectrum of services designed to make the customer path to purchase easy and more engaging, converting online leads into in-dealership sales.
These include:
Realistic trade-in offers
Shop by payment
Finance calculators
Online credit applications
eCommerce for dealer branded merchandise
We integrate with all major third-party applications in the USA. Trade-in Valuations in association with Digital Power Solutions via TRADE CYCLE. This trade-value web tool gives visitors an instant and appraisal of their bike and sources a realistic trade-in value from recognized data providers, BlackBook or NADA.
Shop by Payment in association with Digital Power Solutions via RideItNow™, the industry's first shop-by-payment and payment pre-qualifier, instantly generating a lead with eligibility information. You can also seamlessly link through to the Harley-Davidson® Finance Credit Application.
Insurance quotations via a link to your chosen provider.
Room 58 also offers a range of eCommerce options for Dealer branded merchandise and clothing. From reserve and collect to drive footfall into the dealership to full eCommerce through one of the leading e-Commerce providers, Ecwid. Your shop will seamlessly integrate into your website.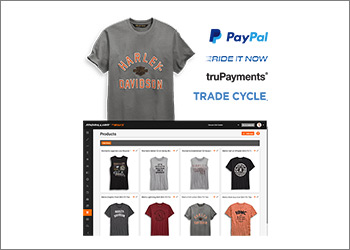 ---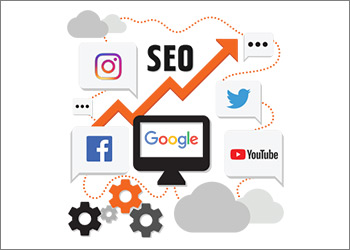 SEO SERVICES
Our platform provides a great tool for facilitating best SEO practices and is built from the ground up with organic search in mind. Our pages are optimized to look great in search results and social media shares with schema.org, Facebook OG and Twitter Card.
In-built tools enable you to manage bespoke Page Titles and descriptions, helping you to improve local search results. Our platform enables you to create high-ranking VDPs – bike detail pages - by adding bespoke content and rich media.
New dealers coming on to our platform, will be offered the opportunity to have 301 redirects added from the most popular pages of their previous site, hence ensure that any existing search equity is maintained.
Advanced SEO packages are available to assist with local search improvement, optimization of Google My Business pages, social media marketing and reputation management – all critical for increasing traffic to your site.
---
BESPOKE DESIGN AND MARKETING SERVICES
From our heritage as a design and marketing agency, who has worked directly with Harley-Davidson® Motor Company for many, many years, we are also able to offer bespoke design services. From a tailored dealer website theme, with personalized sliders, page image header and website tiles, to assistance with the design of local promotional materials or email templates, we are here to help, and you can rest assured your designs will be brand-compliant.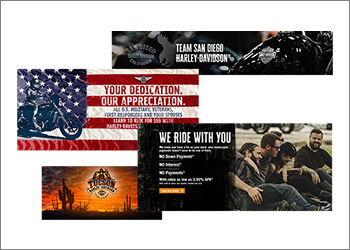 ---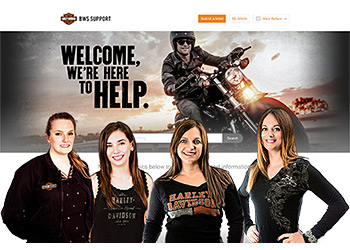 FULL DEALER SUPPORT
Everyone on the support team lives and breathes the Harley® brand. We are Harley®® evangelists and riders, who speak your language. Our team comprises a wealth of skills from account management, experienced digital designers and developers to marketing experts. Whatever you need, we are here to help.
Support is offered through our online help and training portal that includes a plethora of FAQs, tips, best practice guides and video tutorials. You will also be given a personalized online training session upon enrollment and our team are at hand either by email or phone to assist on an ongoing basis.
Our global median first response time is 30 minutes and global median resolution time just 1.6 days compared to an industry average of 4.6 days.